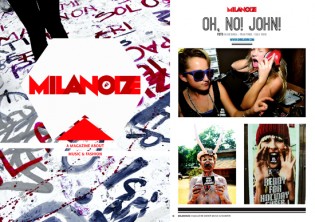 " Milanoize is noise. Noise in Milan. Milan, the metropolis that is ready to transform the noise into music, and the trends of the cool hunters into low cost fashion. Milan, that can give to ...

Warning: getimagesize() [function.getimagesize]: Filename cannot be empty in /web/htdocs/www.ohnojohn.com/home/wp-content/plugins/wp-get-post-image/wp_get_post_image.php on line 58

OH,NO!JOHN! is very glad to present You the amazing OH,NO!JOHN! WINTER DIVISION 2011 ANIIK GARCIA-Mexico / PINAK PAREKH-Washington D.C. / A LOOK INSIDE A TREE HOUSE Style.it / 455ER-Hollywood / SARAH PRUGGER-Vientam / CHARLIE DIMARIA-New ...